BUYING FOR OTHERS?
Click here to buy for others.
Managing Pediatric Dental Patients
By completing this course, you'll learn techniques for better communication and rapport with patients with special needs, pediatric patients and their guardians to help ensure an overall smoother experience in the dental office for all involved.
Course Overview
10
Pre-Assessment Questions
6
Months to Access Course
50
Post-Course Assessment Questions
Beginning with an overview of guidelines and concepts specific to pediatric dentistry, this dynamic course offers information on mandated reporting, family-centered care, communication management, assent and informed consent, and the importance of adaptability when working with pediatric patients. The remainder of the course is divided into separate modules addressing the specific milestones and unique needs of individual pediatric age groups as well as children and some adults with special needs.
Offering practical strategies and techniques, this course will help you better understand and even anticipate the mental, emotional and social needs of children — and how to adapt to each developmental stage. By guiding you through such issues as selecting appropriate language and building rapport, this course introduces you to accepted methods you can use every day to ensure that young patients, along with their parents or guardians, feel comfortable during dental visits and procedures. You will also have an opportunity to practice these techniques in virtual patient scenarios and review the responsibilities of your role as it applies to patient care.
Course Credentials
Updated:
February 2017; October 2018; September 2021; September 2022
Next Review:
September 2024
Course Compatibility
Desktop, laptop and tablet
AGD Code: 750
By the end of the course, you will be able to:

Understand age-specific mental, emotional and social developmental attributes of the pediatric dental patient
Recognize the importance of flexibility and adaptability when working with pediatric and special needs patients
Communicate and respond appropriately when faced with challenging behaviors in pediatric and special needs patients
Apply commonly used behavioral management techniques to virtual interactions with pediatric and special needs patients
Subject Matter Experts
Ms. Benton is the director of clinic operations for the University of Washington's Center for Pediatric Dentistry in Seattle, Washington. Ms. Benton has no relevant financial relationships to disclose.
Dr. Ng is Dentist-in-Chief at Boston Children's Hospital and Associate Professor of Developmental Biology (Pediatric Dentistry). Her expertise and interests include caries prevention and behavior guidance. Dr. Ng has no relevant financial relationships to disclose.
Ms. Paundlay serves as the special needs liaison at the Kids First Pediatric Dentistry & Orthodontics dental office in Fairfield, Connecticut, where she developed and implemented a program to serve a special group with unmet needs. Ms. Paundlay has no relevant financial relationships to disclose.
Dr. Thikkurissy is Chief of Dentistry at Cincinnati Children's Hospital and the Robert Creedon Endowed Professor. Dr. Thikkurissy has no relevant financial relationships to disclose.

The DALE Foundation is an ADA CERP Recognized Provider. ADA CERP is a service of the American Dental Association to assist dental professionals in identifying quality providers of continuing dental education, ADA CERP does not approve or endorse individual courses or instructors, nor does it imply acceptance of credit hours by boards of dentistry. Concerns or complaints about a CE provider may be directed to the provider or to ADA CERP at ada.org/cerp.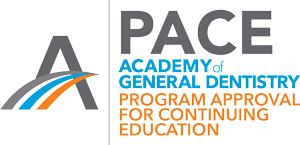 The DALE Foundation is designated as an Approved PACE Program Provider by the Academy of General Dentistry. The formal continuing education programs of this program provider are accepted by AGD for Fellowship, Mastership and membership maintenance credit. Approval does not imply acceptance by a state or provincial board of dentistry or AGD endorsement. The current term of approval extends from 9/1/2021 to 8/31/2024. Provider ID# 355127