BUYING FOR OTHERS?
Click here to buy for others.
Dental Assisting Curriculum Framework
This flexible framework supports your dental assisting education and training efforts with outlines, resources and more. Three different time frames are available to customize the framework to meet your program or practice needs.
Course Overview
6
Months to Access Course
The Dental Assisting Curriculum Framework provides an outline for educating entry-level dental assistants and those looking to pursue a career in dentistry.

The Dental Assisting Curriculum Framework is structured to fit with your program or practice needs, providing educational outlines for three different time frames, as well as resources to use to build your education and training program.

The framework includes:
Curriculum frameworks for three time frames (ten weeks, six months, and two years)
Recommended online courses, textbooks, and links and activity resources
Competency checklists

The Dental Assisting Curriculum Framework focuses on foundational education in dentistry, including infection control, dental radiography, and dental anatomy, and is designed to set dental assistants up for success to take DANB's Infection Control (ICE); Radiation Health and Safety (RHS); and Anatomy, Morphology and Physiology (AMP) exams to earn National Entry Level Dental Assistant (NELDA) certification.

The six-month and two-year curriculum frameworks also cover general chairside and office management topics.

PLEASE NOTE: This product is a framework for building an education and training program. It does not include DALE Foundation courses, textbooks, or DANB exams. To purchase this product and the recommended courses and/or exams for each of your learners, please complete the form in the purchasing guide.
For assistance with ordering the Dental Assisting Curriculum Framework and related products or to schedule a demo and learn more, contact us.
Course Credentials
Course Compatibility
Desktop, laptop, tablet and mobile
Subject Matter Experts
Carolyn Breen, Ed.D., CDA, RDA, RDH
Vicki Brett, CDA, RDH, B.S.D.H.
Dawn Damron, RDH, MA
Cynthia C. Durley, M.Ed., MBA
Lorraine "Lori" Gagliardi, CDA, FADAA, RDA, RDH, Ed.D.
Virginia "Ginny" Jorgensen, CDA, EFDA, EFODA, AAS
Janet Sell, CDA, Ed.D.

The DALE Foundation is an ADA CERP Recognized Provider. ADA CERP is a service of the American Dental Association to assist dental professionals in identifying quality providers of continuing dental education, ADA CERP does not approve or endorse individual courses or instructors, nor does it imply acceptance of credit hours by boards of dentistry. Concerns or complaints about a CE provider may be directed to the provider or to ADA CERP at ada.org/cerp.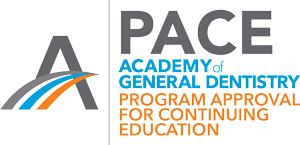 The DALE Foundation is designated as an Approved PACE Program Provider by the Academy of General Dentistry. The formal continuing education programs of this program provider are accepted by AGD for Fellowship, Mastership and membership maintenance credit. Approval does not imply acceptance by a state or provincial board of dentistry or AGD endorsement. The current term of approval extends from 9/1/2021 to 8/31/2024. Provider ID# 355127