BUYING FOR OTHERS?
Click here to buy for others.
Dental Assisting Curriculum Framework
This flexible framework supports your dental assisting education and training efforts with outlines, resources and more. Three different time frames are available to customize the framework to meet your program or practice needs.
Course Overview
6
Months to Access Course
The Dental Assisting Curriculum Framework provides an outline for educating entry-level dental assistants and those looking to pursue a career in dentistry.

The Dental Assisting Curriculum Framework is structured to fit with your program or practice needs, providing educational outlines for three different time frames, as well as resources to use to build your education and training program.

The framework includes:
Curriculum frameworks for three time frames (ten weeks, six months, and two years)
Recommended online courses, textbooks, and links and activity resources
Competency checklists

The Dental Assisting Curriculum Framework focuses on foundational education in dentistry, including infection control, dental radiography, and dental anatomy, and is designed to set dental assistants up for success to take DANB's Infection Control (ICE); Radiation Health and Safety (RHS); and Anatomy, Morphology and Physiology (AMP) exams to earn National Entry Level Dental Assistant (NELDA) certification.

The six-month and two-year curriculum frameworks also cover general chairside and office management topics.

PLEASE NOTE: This product is a framework for building an education and training program. It does not include DALE Foundation courses, textbooks, or DANB exams. To purchase this product and the recommended courses and/or exams for each of your learners, please complete the form in the purchasing guide.
For assistance with ordering the Dental Assisting Curriculum Framework and related products or to schedule a demo and learn more, contact us.
Course Credentials
Course Compatibility
Desktop, laptop, tablet and mobile
Subject Matter Experts
Ms. Brett is the Campus Director of Academic Affairs with ECPI University. Previously, Ms. Brett was the Dental Assisting Program Director and Curriculum Chair. She has worked in numerous aspects of dentistry, including serving as a dental hygienist and dental sales representative. She is a dedicated volunteer with numerous oral health organizations to include Virginia Mission of Mercy. Ms. Brett held previous positions and is an active member in the American Dental Assistants Association, the American Dental Hygienists Association, and the Tidewater Dental Hygienists Association. Ms. Brett also holds a certificate in dental assisting and a bachelor's degree in dental hygiene from Old Dominion University. She has no relevant financial relationships to disclose.

Ms. Jorgensen owns Smith & Jorgensen, a dental consulting company that focuses on training in infection prevention and control and dental clinic efficiency. She is also employed at Portland Community College, and teaches in the Integrated Community Dental Assisting Program. Ms. Jorgensen has no relevant financial relationships to disclose.
Dr. Gagliardi has been an educator in both dental assisting and dental hygiene for over 30 years and in the field of dentistry since 1977. She is retired and recently was granted the faculty rank of Professor Emeritus with Pasadena City College. She spent 30 years at Pasadena City College serving in a variety of positions, including as the Dental Assisting Program Director for 15 years.
Dr. Gagliardi served for many years on the Commission on Dental Accreditation (CODA), as chair and commissioner for CODA's Dental Assisting Education Review Committee and site visitor. She is an author of the textbook, Dental Health Education, Lesson Planning and Implementation, now in its third edition, and a contributor to other textbooks, articles and publications.
As an active member of the dental community, Dr. Gagliardi has served in multiple roles for several organizations at the local and national levels. She is a member of the American Dental Assistants Association; past president and current member of the California Dental Hygienists Association; past president and current member of the California Association for Dental Assisting Teachers (CADAT); and a member of the Organization for Safety, Asepsis and Prevention. Additionally, she participates as a subject-matter expert on topics related to dental health and dental assisting education programs and courses, including currently serving on the DALE Foundation's Entry Level Dental Assisting Curriculum Task Force.
Dr. Gagliardi holds a doctorate in education and organizational leadership and a master's in education with special emphasis on dental health education from the University of La Verne in California. She studied dental hygiene at the University of Southern California, and dental assisting at Pasadena City College.
Dr. Gagliardi has no relevant financial relationships to disclose.

The DALE Foundation is an ADA CERP Recognized Provider. ADA CERP is a service of the American Dental Association to assist dental professionals in identifying quality providers of continuing dental education, ADA CERP does not approve or endorse individual courses or instructors, nor does it imply acceptance of credit hours by boards of dentistry. Concerns or complaints about a CE provider may be directed to the provider or to ADA CERP at ada.org/cerp.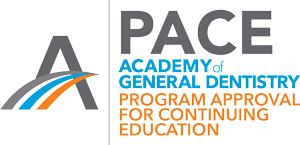 The DALE Foundation is designated as an Approved PACE Program Provider by the Academy of General Dentistry. The formal continuing education programs of this program provider are accepted by AGD for Fellowship, Mastership and membership maintenance credit. Approval does not imply acceptance by a state or provincial board of dentistry or AGD endorsement. The current term of approval extends from 9/1/2021 to 8/31/2024. Provider ID# 355127