BUYING FOR OTHERS?
Click here to buy for others.
DANB RHS Review
Knowing how to operate dental x-ray equipment and perform radiographic procedures is essential for dental assistants. This review course covers those topics and more. Plus, it offers excellent preparation for the DANB Radiation Health and Safety exam.
Course Overview
20
Pre-Assessment Questions
6
Months to Access Course
75
Post-Course Assessment Questions
Operating dental x-ray equipment and performing dental radiographic procedures are some of the most common duties dental assistants perform. This course will help you understand this topic in detail, including how to detect and fix common exposure and processing errors — saving you and the practice precious time. You'll also review the major anatomical landmarks of the teeth, jaw, oral cavity, and adjacent structures of the skull to improve your x-ray-taking accuracy.
This course covers basic radiation biology concepts, as well as radiation safety procedures for operator and patients. You'll also learn how to implement necessary quality-assurance procedures so you can get it right the first time. The course covers digital radiography in depth and also features optional modules on conventional (film) radiography. Understanding dental radiography is a must for dental assistants, and this course will give you the training you need and will help you prepare for the DANB Radiation Health and Safety (RHS) exam.
Questions in the review course are not from actual DANB exams, and completing the review course does not guarantee that you will pass the DANB RHS exam.
Course Credentials
Updated:
September 2013; May 2016; July 2018; April 2022
DANB Exam
DANB Radiation Health and Safety (RHS) exam
Course Compatibility
Desktop, laptop and tablet
AGD Code: 138
After completing this review course, you'll be able to:
Identify major anatomical landmarks of the teeth, jaw, oral cavity, and adjacent structures of the skull
Understand basic radiation biology concepts
Practice radiation safety procedures for both operator and patients
Operate radiographic exposure equipment
Catch and correct common intraoral and extraoral radiographic exposure errors
Use radiographic processing equipment and digital equipment
Detect and fix common radiographic processing errors
Mount and label dental radiographs
Apply effective infection control techniques
Implement necessary quality-assurance procedures
This product is part of the bundles listed below. Buy together and save!

Subject Matter Experts
Ms. Filcheck has worked as a chairside dental assistant for more than eight years. She has also provided administrative support and practice management expertise for the dental office and is an active member in the American Dental Assistants Association and the Greater Baltimore Dental Assisting Society. Ms. Filcheck has no relevant financial relationships to disclose.
Mr. Squier is currently a student in dental assisting and plans on pursuing an advanced degree in dentistry. He provided guidance to course development from a "learner" perspective. He has served as an intern at a variety of dental offices, including endodontics, oral surgery and pediatric dentistry. Mr. Squier has no relevant financial relationships to disclose.
Dr. Kracher serves as an associate professor at Indiana University-Purdue University, Department of Dental Education in Fort Wayne, Indiana. She has also served as a curriculum consultant to the American Dental Association's Commission on Dental Accreditation. She is an active member of the American Dental Education Association, American Association of Public Health Dentistry and American Dental Assistants Association. Dr. Kracher has no relevant financial relationships to disclose.

The DALE Foundation is an ADA CERP Recognized Provider. ADA CERP is a service of the American Dental Association to assist dental professionals in identifying quality providers of continuing dental education, ADA CERP does not approve or endorse individual courses or instructors, nor does it imply acceptance of credit hours by boards of dentistry. Concerns or complaints about a CE provider may be directed to the provider or to ADA CERP at ada.org/cerp.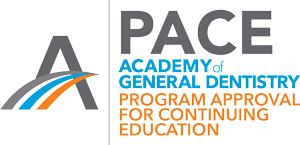 The DALE Foundation is designated as an Approved PACE Program Provider by the Academy of General Dentistry. The formal continuing education programs of this program provider are accepted by AGD for Fellowship, Mastership and membership maintenance credit. Approval does not imply acceptance by a state or provincial board of dentistry or AGD endorsement. The current term of approval extends from 9/1/2021 to 8/31/2024. Provider ID# 355127