BUYING FOR OTHERS?
Click here to buy for others.
Safety Stuff That Matters: Protecting Against Exposure to Blood
Do you know what cross-contamination looks like? Are you confident in your ability to protect yourself at work? This fast-paced, on-demand webinar is packed with the information and strategies to help reduce your risk of exposure while delivering patient care.
Course Overview
10
Post-Course Assessment Questions
Would you change the way you think about your safety if you could see the areas that have been contaminated with blood as you are caring for patients? During this on-demand webinar, you will get a peek into what cross-contamination with blood or bloody saliva looks like during the delivery of oral healthcare. This fast-paced, entertaining session will present strategies and review types of equipment that can reduce your risk of exposure. You can be confident knowing how to protect yourself at work because that is safety stuff that matters!

This webinar course allows you to learn about cross-contamination at your own pace and on your own schedule during your six-month access period.
Course Credentials
Course Compatibility
Desktop, laptop and tablet
AGD Code
148
At the end of this webinar, you will be able to:
Identify potential sources of exposure to blood, bloody saliva and contaminated instruments during the delivery of oral healthcare.
List measures to protect against splash/spatter.
Discuss measures to reduce the incidence of exposures to contaminated sharp items.
Subject Matter Experts
Karen Kinsley Gregory, RN, CDIPC, is a registered nurse who found her home in the dental community. With over 20 years of compliance experience, Ms. Gregory currently operates her own consulting company and applies her passion for process and policy to support healthcare providers in creating a safe space for workers and patients. Ms. Gregory was one of the first recipients of the Certified in Dental Infection Prevention and Control (CDIPC) certification and has been the recipient of several OSAP awards including the Dr. James J. Crawford Lifetime Achievement Award. She co-chairs the OSAP Boot Camp Program Committee and is on the editorial review board for Infection Control in Practice. To give back to her community and live out her faith, Ms. Gregory has been involved in numerous Mission of Mercy dental clinics. She has disclosed financial interest as a key opinion leader or consultant from Hu-Friedy and SciCan.

The DALE Foundation is an ADA CERP Recognized Provider. ADA CERP is a service of the American Dental Association to assist dental professionals in identifying quality providers of continuing dental education, ADA CERP does not approve or endorse individual courses or instructors, nor does it imply acceptance of credit hours by boards of dentistry. Concerns or complaints about a CE provider may be directed to the provider or to ADA CERP at ada.org/cerp.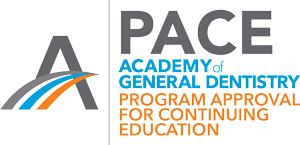 The DALE Foundation is designated as an Approved PACE Program Provider by the Academy of General Dentistry. The formal continuing education programs of this program provider are accepted by AGD for Fellowship, Mastership and membership maintenance credit. Approval does not imply acceptance by a state or provincial board of dentistry or AGD endorsement. The current term of approval extends from 9/1/2021 to 8/31/2024. Provider ID# 355127