BUYING FOR OTHERS?
Click here to buy for others.
Medical Emergency Management in Dental Healthcare
When medical emergencies happen, you'll need to respond quickly. This webinar guides you through the steps to identify, respond to, and manage medical emergencies in the dental office. Equip yourself with the information to manage emergencies confidently and keep your patients safe.
Course Overview
10
Post-Course Assessment Questions
Are you prepared to address medical emergencies in your dental practice? Through this webinar, you'll learn how to identify, respond to, and manage various medical emergencies that may arise in a dental setting. Be equipped with information you need to properly manage emergency situations confidently and efficiently, ensuring the safety and well-being of your patients.

This DALE Foundation webinar course allows you to learn about safeguarding patients and can be completed at your own pace and on your own schedule during your six-month access period.
Course Credentials
Next Review:
October 2026
Course Compatibility
Desktop, laptop, tablet, and smartphone

AGD Code
142
At the end of this course, you will be able to:
Identify the basic principles of handling medical emergencies in a dental setting, including the definition of a medical emergency and common risk factors that may cause such factors.
Recognize the common medical emergencies encountered by dental healthcare providers. Describe methods to know how to evaluate the situation and take appropriate steps to prevent a crisis.
Summarize how to assess the severity of a medical emergency, implement effective emergency protocols, provide basic life support techniques, and administer first aid measures for specific emergencies to enable dental healthcare providers to act efficiently in a crisis.
Provide insight on how to collaborate with local emergency services including determining when to contact emergency services, effective communication, and preparing patients for transfer to hospital settings.
Review emergency equipment and common medications used to manage a medical emergency. Summarize how to properly use and maintain equipment, as well as administer emergency medications enabling providers to respond effectively and provide immediate relief to patients in need.
Subject Matter Experts
India R. Chance is a registered dental hygienist, infection control educator, and authorized OSHA trainer who provides continuing education courses for dental healthcare providers to improve their knowledge of infection prevention and workplace safety. Nationally, Ms. Chance has trained hundreds of dental practice teams, and her mission is to equip them with tools to help deliver the safest dental visit possible. She is a state dental board inspector and national speaker who has worked on various CDC dental industry projects. She was also a subject matter expert writer for USA TODAY. She has no relevant financial relationships to disclose.

The DALE Foundation is an ADA CERP Recognized Provider. ADA CERP is a service of the American Dental Association to assist dental professionals in identifying quality providers of continuing dental education, ADA CERP does not approve or endorse individual courses or instructors, nor does it imply acceptance of credit hours by boards of dentistry. Concerns or complaints about a CE provider may be directed to the provider or to ADA CERP at ada.org/cerp.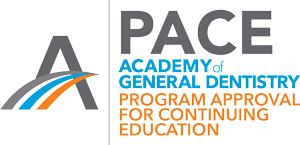 The DALE Foundation is designated as an Approved PACE Program Provider by the Academy of General Dentistry. The formal continuing education programs of this program provider are accepted by AGD for Fellowship, Mastership and membership maintenance credit. Approval does not imply acceptance by a state or provincial board of dentistry or AGD endorsement. The current term of approval extends from 9/1/2021 to 8/31/2024. Provider ID# 355127