BUYING FOR OTHERS?
Click here to buy for others.
HR Fundamentals for the Dental Office
This course goes into detail about HR topics and will empower you to become a leader within your practice. It also meets AADOM Fellowship requirements.

Course Overview
10
Pre-Assessment Questions
6
Months to Access Course
50
Post-Course Assessment Questions
Whether you manage a dental staff of two, 20 or 200, effective human resource (HR) management is vital to the practice's success. This course covers the essential tools for all aspects of human resources, from planning to hiring, to benefits to reviews — as well as managing staff orientations and training and knowing how to analyze and plan for current and future hiring needs.

By completing this course, you'll become more well-versed in developing job descriptions, more familiar with interviewing and hiring new employees, and better at evaluating employees' job performance and conducting employee performance reviews. You'll also receive examples and resources for immediate application in the dental practice. Upon course completion, you'll earn 6 CE credits and a certificate, plus meet AADOM Fellowship requirements.
Note: Meets AADOM Fellowship requirements
Course Credentials
Updated:
March 2015; October 2018; August 2021
Course Compatibility
Desktop and laptop
AGD Code: 550
After completing this course, you will be able to:
Analyze and plan for current and future dental office human resource needs
Develop clear job descriptions
Understand legal issues related to planning, recruitment, hiring, benefits, compensation, performance review, delegating duties, termination, and employee records management
Refine the interviewing and hiring process
Interpret employee benefit and compensation plans
Properly maintain employee records
Manage staff orientation, staff training, and performance reviews
Recognize the importance of a legally sound employee handbook/policy
This product is part of the bundles listed below. Buy together and save!
Subject Matter Experts
Ms. Dickinson works as a professor and the director of dental assisting programs at El Paso Community College in El Paso, Texas. She has served as a consultant in the dental field and chairside dental assistant for more than 20 years. She is an active member of the American Dental Assistants Association and the Texas Dental Assistants Association. Ms. Dickinson has no relevant financial relationships to disclose.
Ms. Duncan is the founder and president of Odyssey Management, a dental practice management consulting firm in Virginia, and a lifetime member of the American Association of Dental Office Managers. Prior to founding Odyssey Management in 2007, Ms. Duncan worked as a practice administrator for a private dental practice. Ms. Duncan has been offering individual consulting services since 1998, and has been a specialty coach in human resources and insurance at the Productive Dental Academy since 2010. Ms. Duncan has no relevant financial relationships to disclose.
Ms. Tastad is a business leadership consultant with more than 15 years of experience helping dental offices improve systems; in her work, she has developed innovative programs for the dental field. She is a graduate of the University of Washington in Seattle and is a member of the Academy of Dental Management Consultants and the Washington State Dental Hygienists' Association. Ms. Tastad has no relevant financial relationships to disclose.

The DALE Foundation is an ADA CERP Recognized Provider. ADA CERP is a service of the American Dental Association to assist dental professionals in identifying quality providers of continuing dental education, ADA CERP does not approve or endorse individual courses or instructors, nor does it imply acceptance of credit hours by boards of dentistry. Concerns or complaints about a CE provider may be directed to the provider or to ADA CERP at ada.org/cerp.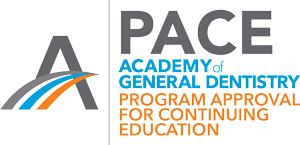 The DALE Foundation is designated as an Approved PACE Program Provider by the Academy of General Dentistry. The formal continuing education programs of this program provider are accepted by AGD for Fellowship, Mastership and membership maintenance credit. Approval does not imply acceptance by a state or provincial board of dentistry or AGD endorsement. The current term of approval extends from 9/1/2021 to 8/31/2024. Provider ID# 355127