BUYING FOR OTHERS?
Click here to buy for others.
Win the Dental Day: Strategies for Clinical Efficiency
Discover new strategies to enhance clinical efficiency. This webinar will provide you with ways to optimize your practice's processes and operations to improve the day-to-day flow and efficiency. You'll also learn how to improve team culture, patient experience, and practice efficiency.
Course Overview
10
Post-Course Assessment Questions
Do you ever experience high stress related to clutter or inconsistent inventory amounts in your dental practice? If so, this webinar is for you! Learn ways you can optimize workflow processes and improve organization, efficiency, and safety.

During this webinar, you will discover strategies to improve team culture, enhance patient experience, and promote financial efficiency and growth.

This DALE Foundation webinar course allows you to learn about clinical efficiencies at your own pace and on your own schedule during your six-month access period.
Course Credentials
Next Review:
November 2026
Course Compatibility
Desktop, laptop and tablet

AGD Code
010

At the end of this webinar, you will be able to:
Assess your practice's workflow processes for potential inefficiencies hindering financial growth and team culture
Recognize the benefits of a color code system, emphasizing its role in enhancing organization, efficiency, and safety
Identify products and services to help you win the dental day

Subject Matter Experts
Kay Hickey has been in the dental industry for over 25 years as a licensed dental assistant, dental assisting instructor, and clinical efficiency consultant. Her passion is helping dental teams streamline workflow processes to create an efficient, profitable, and happy practice. Her presentations address the cost of clinical disorganization and the negative impact it will have on the practice's overall success.
Kay has authored four children's dental books and several articles for various dental publications. She is a member of the Speaker Consultant Network, AADOM Speaker Consultant Alliance, and eAssist Consulting Network.

Kay has disclosed financial interest as an employee of Zirc Dental Products.

The DALE Foundation is an ADA CERP Recognized Provider. ADA CERP is a service of the American Dental Association to assist dental professionals in identifying quality providers of continuing dental education, ADA CERP does not approve or endorse individual courses or instructors, nor does it imply acceptance of credit hours by boards of dentistry. Concerns or complaints about a CE provider may be directed to the provider or to ADA CERP at ada.org/cerp.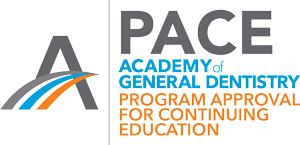 The DALE Foundation is designated as an Approved PACE Program Provider by the Academy of General Dentistry. The formal continuing education programs of this program provider are accepted by AGD for Fellowship, Mastership and membership maintenance credit. Approval does not imply acceptance by a state or provincial board of dentistry or AGD endorsement. The current term of approval extends from 9/1/2021 to 8/31/2024. Provider ID# 355127